Yancheng Hai Juda new material industrial park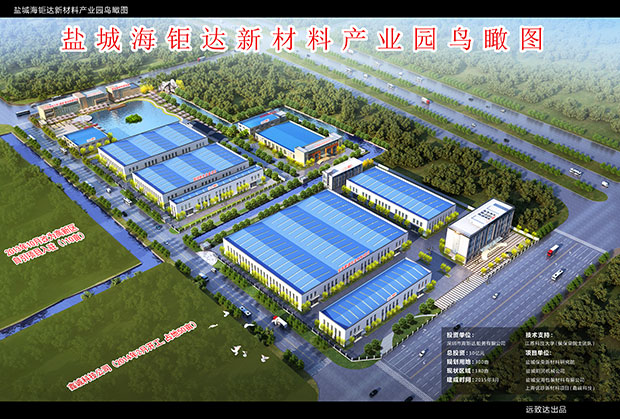 Yancheng Hai Juda new material industrial park is led by Shenzhen Hai Juda shipping CO., LTD., supported by Jiangsu university`s science and technology institute of materials and other institutions, invested by group construction, it aims at building regional park engineering equipment research and development of new materials, and application characteristics industrial park.
Its headquarters which is approved by the relevant government departments to carry out the interdisciplinary company shipping business, locates in Shenzhen Baoan Da Chan bay. This project locates in Jian Hu high-tech economic zones, with a total investment of 1 billion Yuan (a total 300 mu area and a total 500 million Yuan investment), And its main business includes research and development, production, sales, shipping and Marine engineering, oil field pipeline anticorrosion new materials. It plans to introduce production of anti-corrosion equipment and form a complete set of three or four new materials production enterprises, research and development institutions at or above the provincial level five-seven, and one new material industrial park enterprises supporting e-commerce services. After the completion and running operation of the project, the annual sales can up to 1 billion Yuan of above and 250 million Yuan profits tax.
Water supply equipment and port machinery accessories project profile
The headquarter of Shenzhen Yuan Zhida technology CO., LTD., is in Shenzhen baoan district shajing Jin Yuda industrial park, it is a subordinate composite CO., LTD of Shenzhen Hai Juda shipping company, which specializes in port machinery and electronic digital product development, production and sales . This Company registered a new "Yancheng wan Hong precision machinery CO., LTD., which locates in major new material industrial park, and reached an agreement of land expropriation 70 mu, a total amount area of a new combined factory building and office space 22000 square meters, annual output reached more than 50 sets of large water supply ships equipment system. It's all kinds of port machinery spare parts production value 100 million Yuan .When the project puts into production, the annual sales volume can be up to over 200 million Yuan, profits tax can be 30 million Yuan.
High-grade composites project profile
Jiangsu Xincheng technology CO., LTD, was invested by Shanghai optimal Jane new materials CO., LTD., in November 2013, it is engaged in the new decorative composite materials research and development, production and sales of professional firms. It has brought in Korean high-grade composite plate production technology, production of high-grade elevator car decorative plates, high-grade home (kitchen) the surface materials, high-grade hotels and exhibition hall, and airport decorative surface materials.
This project covers an area of 52 mu, owns a total investment of 200 million Yuan, of which 80 million Yuan investment is fixed assets. The construction area is 21800 square meters including production workshop area 18800 square meters. Advance purchase: a set of sheet metal composite molding equipment, one automatic laser cutting machine, one 32 station CNC punch press, two sets of CNC shearing machine, two CNC bending machine, two combined punching and shearing machine, three intelligent welders, four argon arc welding machine, and four sets of 2 welding machine.
Annual output of high-grade composite plate is 5 million square meters, high-grade decoration products is 5000 sets .After putting into production, annual sales can be 200 million Yuan.
Tube packing material introduction profile
Yancheng BMT tube packing material CO., LTD., locates in Jian Hu county of Jiangsu province high-tech economic zones, funded by Wang Genjun. It specializes in research and development, production and sales of anti-corrosion pipes and packaging materials. After careful market research and investigation, He decided to confiscate land 45 mu Jian Hu high-tech economic zones. The first phase focuses on the issue of new packaging materials production and sales of the project; the second phase focuses on new anti-corrosion pipeline project. The total investment cost of first phase 65million with a 120 million Yuan of annual output value and 8 million Yuan profits tax after the completion of the project.
Thin film capacitor project profile
Yi Man Feng technology (Shenzhen) CO., LTD is a professional engaged in capacitor production and sales of foreign-funded enterprises, the company locates in baoan district of Shenzhen guanlan town Xi Matan industrial zone. The company was founded in 1993, during its ten years` development, Yi Man Feng technology (Shenzhen) CO., LTD has become biggest and the most potential for the development of ceramics capacitors and film capacitor of manufacturing enterprises in China by the leader—Xiang Rong manager with "honest, pragmatic, pioneering and excellent" spirit of enterprise and "be the industry leader of science and technology, create an international brand".
Introduction profile of new materials research institute in Jiangsu University of science and technology
In order to promote the political industry-university-institute cooperation and take full advantage of the talents in Jiangsu University of science and technology, we can make characteristic industries become bigger and stronger such as Jian Hu ship machinery, port machinery, petroleum machinery, auto parts. According to the "complementary advantages, mutual benefit and common development" principle, and on the basis of equal consultation, we can realize the sharing of resources to carry out the engineering equipment and achieve a comprehensive, multi-level long-term cooperation of new materials technology scientific research, project introduction, talent cultivation and base construction and so on.
New material research institute covers an area of about 10 acres, 6000 square meters research and development of new office buildings and standard factory building. It will bring in twenty to thirty needed talents who can engage in new materials application test in research and development, the transformation of scientific and technological achievements, etc.